ASUS
Asus 華碩 Mini PC PN41 迷你桌上型電腦 Win10 Pro 專業版
建議零售價
$3,299.00
$0.00
單價
每
Asus 華碩 Mini PC PN41
迷你桌上型電腦

配備第 11 代 Intel Celeron 或 Pentium 移動處理器的超緊湊型計算機、用於 6W CPU 的無風扇機箱、USB 供電(包括輸入)、2.5 GbE LAN、WiFi 6、Windows 10 Pro 和雙 USB 3.2 Type-C。

Windows 10 專業版:華碩推薦商用 Windows 10 專業版。其他版本也可用。
強大的處理器:第 11 代 Intel® Pentium® Silver 或 Celeron®
無風扇機箱:支持 6 瓦 CPU,同時最大限度地減少噪音和灰塵進入
USB Power Delivery 輸入支持:節省空間的設計也減少了電纜冗餘
板載 2.5 Gbps 以太網:高速網絡連接,內置
易於訪問的 USB-C®:雙 Type-C 端口,包括一個支持 DisplayPort™ 1.4
高速無線:集成英特爾 WiFi 6 (Gig+) 和藍牙 5.2,可輕鬆實現無線連接
可配置端口:可選的 DisplayPort 1.4、VGA、以太網或 COM 插座
可選功能包:讀卡器、麥克風陣列和紅外傳感器
24/7 可靠性:經過廣泛測試以確保長期可靠性
Performance
ASUS Mini PC PN41 is powered by the latest 11 Gen Intel® Pentium® Silver or Celeron® mobile processor. Compared with traditional same-tier mobile processors, these Intel mobile processors deliver performance improvements of up to 36.45% for single-thread computing, up to 31.8% for multi-thread computing, and up to a 32% lift for the entire system – ensuring smooth operations for everything you do.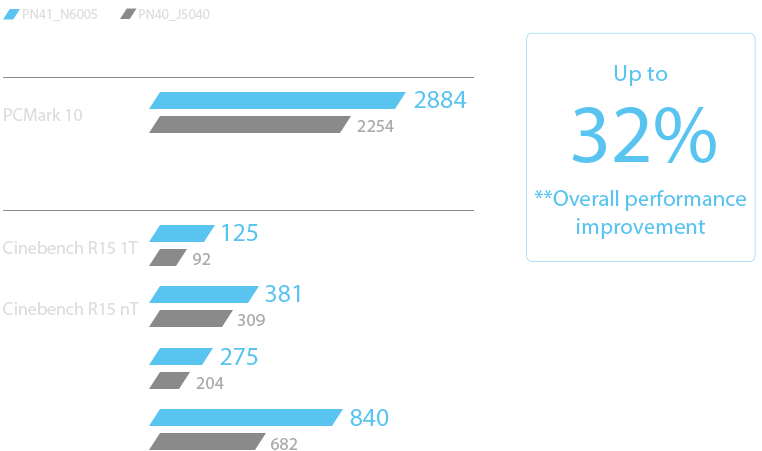 *Testing configuration: PN41 / PN40, Windows 10 Pro (64 bit), Intel® Pentium® Silver processor, DDR4 2 x 4 GB RAM, Intel® 545s SATA SSD, 1920 x 1080 at 60 Hz.
ASUS Mini PC PN41 delivers class-leading graphics performance with Integrated Intel UHD Graphics. In fact, compared to previous-generation mobile processors, PN41's graphics performance in 3DMark11 v1.0.132 has increased by over 90% — and by an impressive 120% in 3D Mark Fire Strike.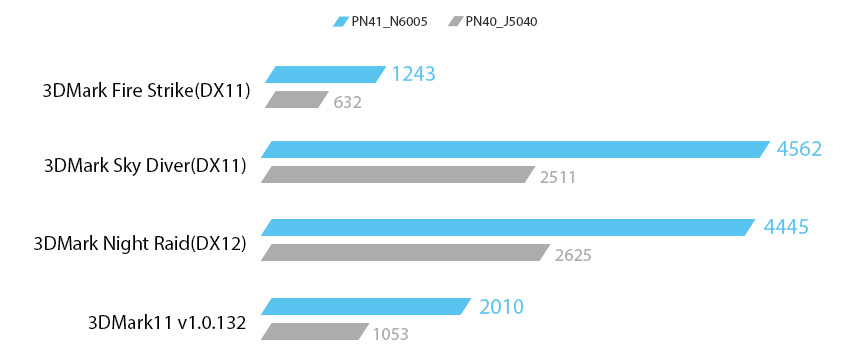 *Testing configuration: PN41 / PN40, Windows 10 Pro (64 bit), Intel® Pentium® Silver processor, DDR4 2 x 4 GB RAM, Intel® 545s SATA SSD, 1920 x 1080 at 60 Hz.
Hyper-fast 2.5 Gbps networking
ASUS Mini PC PN41 is engineered with onboard networking that runs at up to 2.5 Gbps – or 2.5X faster than even gigabit Ethernet. This hyper-fast LAN support provides seriously speedy networking that makes everyday tasks smoother and more efficient.



Triple-display support
ASUS Mini PC PN41 supports up to three displays with 4K UHD resolution through HDMI, DisplayPort* over USB-C and a user-configurable port*, extending your workspace across multiple monitors for more efficient and comfortable productivity experiences.
* Configurable ports must be specified during the order process.
* Configurable VGA port does not support 4K or higher resolutions.
* PN41 supports DisplayPort 1.4 protocol, up to 4K at 60Hz and 10-bit color depth.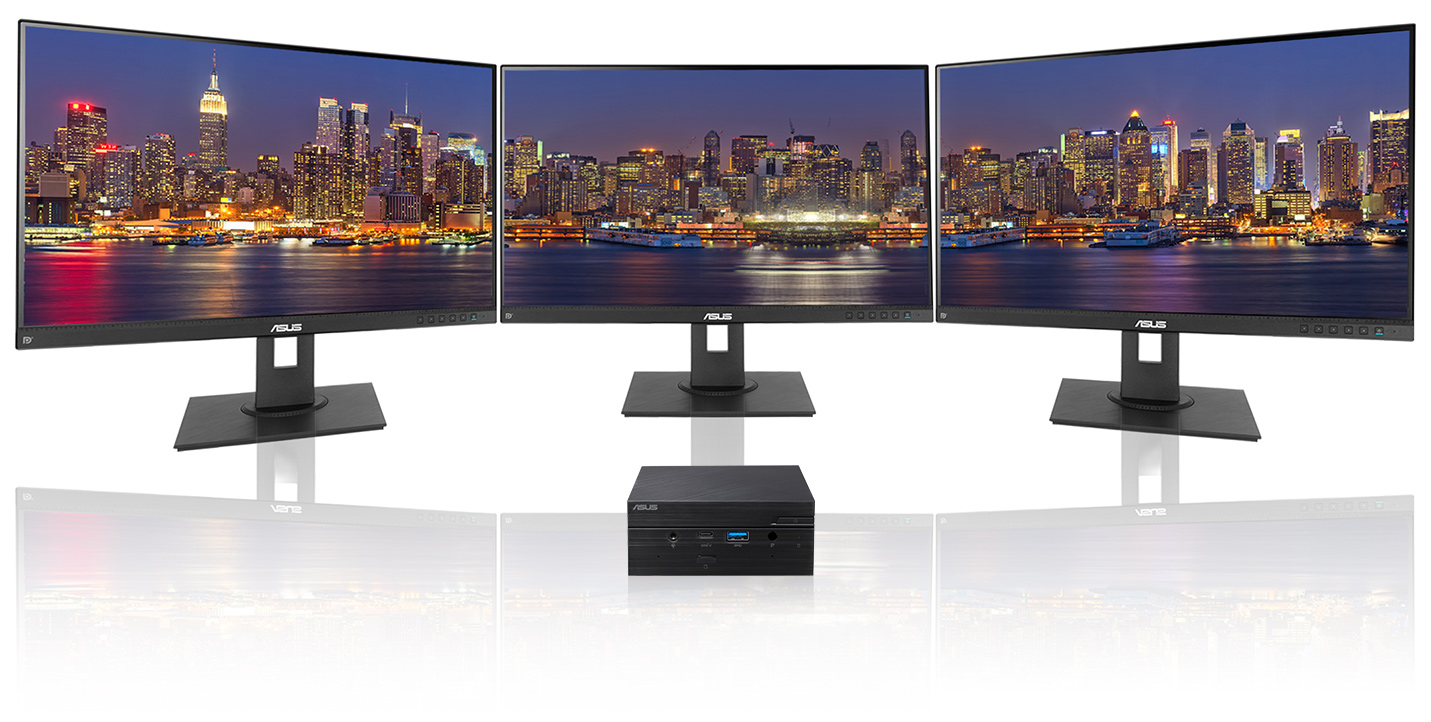 Digital Signage

Kiosk

Small Office or Home Office

Cloud Learning
Reduce environmental impact while lowering operating costs
ASUS Mini PC PN41 has an energy-efficient design that reduces environmental impact while helping to lower operating costs. Eco-friendly ASUS Mini PCs are recipients of some of the industry's highest environmental certifications, including ENERGY STAR
®
. Specifically, PN41 consumes as little as 3.69 watts at idle. It is also whisper-quiet, with the fan-cooled model generating just 34.1 dB(A) at full load. Its fanless sibling generates a mere 23.5 dB(A) at full load.

The ASUS Business Manager software suite provides exclusive features for Mini PC PN41. Designed for businesses that lack adequate IT support, it simplifies the processes of management and maintenance.


Model Name: PN41-N54G128Pro

Color: Black

CPU: Intel Celeron N5100

Chipset: Integrated

Graphics: Integrated - Intel HD Graphics

Memory: 4GB DDR4 3200MHz SO-DIMM

eMMC: 128G eMMC

WLAN: Wi-Fi 6, Bluetooth 5.0, 2*2

Lan: 2.5G LAN, Realtek® RTL8125B-CG

Side(Front) I/O:  1 x USB 3.1 Gen2 Type-C(w/ quick charge), 1 x USB3.1 Gen1 Type-A, 1x 4-in-1 Card Reader, 1 x Consumer Infrared Sensor, 2 x Microphone Array, 1x Audio Jack, 1 x K-Lock(side)

Back I/O: 1 x HDMI, 1 x USB 3.1 Gen1 Type-C(w/ DP output), 1 x Configurable Port (option: VGA/COM/DP/LAN/TBT3), 2 x USB 3.1 Gen1 Type-A, 1 x RJ45 LAN, 1 x DC-in

Configurable I/O: VGA Port

Integrated Speaker: No

KB/MS: USB Keyboard & Mouse

Power Adaptor&Cord: 19Vdc, 3.42A, 65W Power Adapter

Accessory:
BASIC PACKING
BASIC PACKING
CPU LABEL
HDD PACKING
RATING LABEL
VESA MOUNT(Lockable)

OS Type: Win10 PRO EntryDT(DM/EM)

OS Language: M12

Dimension: 115 x 115 x 49 mm

Weight: 700g (include 2.5" HDD)

🚩JOIN US NOW🚩
立即成為Appro會員嘅一份子🥰

Sign Up 即可獲得2,000 App Points
Like Facebook Page 即可獲得1,000 App Points
Follow Instagram 即可獲得2,000 App Points

除此之外每次購物都可以儲分!

✨HK$1 = 5 App Points✨
儲滿5,000分即可以當HK$50用😛
---
分享產品
---